HERE are more details of the exhibitions  displayed on our home page. They are available for your own local use. On request, we will send on the picture files and explanatory text and advise you on how to curate your own exhibition.

1. "NOT AFRAID TO LOOK: Gaza Then and Now" brings together  images from Tom Hurndall's time in Gaza. Tom was a young photography student when he voluntee>red to work in Gaza with the International Solidarity Movement. In April, 2003 he was shot in the head by an IOF sniper whilst he was trying to remove a terrified child from the crossfire. Tom lay in a coma, but died nine months later. The exhibition was shown in Edinburgh, London , Gaza and Olympia (WA) . It contains pictures taken by Tom with commentaries from his own correspondence as well as text from the correspondence and notes of Rachel Corrie, who was also murdered by the IOF about a month before Tom was shot.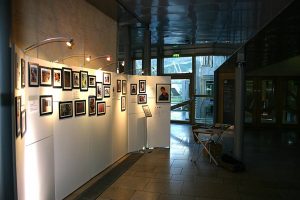 2.  CHILDREN OF THE OCCUPATION features the photography of the children of Nabi Saleh  and the Aida Refugee Camp in Bethlehem. It shows the daily reality of life in a war zone where children play among the teargas cases and live bullet cartridges collected after yesterday's night raids or school assaults.The exhibition consists of about twenty images, and has been displayed in the Scottish Parliament, the Citizens Theatre, Glasgow, and the Hub, Gilmerton, Edinburgh.
3. "EZZ" : Our first one-man show displayed the work of outstanding Gazan photographer "Ezz" al Zanoun. It opened for three weeks at the 2014 Edinburgh Festival Fringe . "Ezz" himself was due to visit  Edinburgh to speak about his work, but the 2014 Gaza invasion rather got in the way of his travel plans! The exhibition consists  of some 18 pictures. They show various aspects of Gaza life. "Ezz's" mastery of light and composition make his pictures a true joy to behold.
4. SHOOTING THE OCCUPATION: Ryan Roderick Beiler
Ryan Roderick Beiler lived and worked in Palestine for a number of years during which he contributed many images to the photography collective ActiveStills. This exhibition and talk featured his study of the villages of popular resistance which were erected on the hills of Palestine as a gesture of defiance against house demolitions and land theft by the Israeli authorities. The exhibition comprises a set of 18 pictures and comes with a copy of his philosophy of co-resistance in his work as a photographer in Palestine.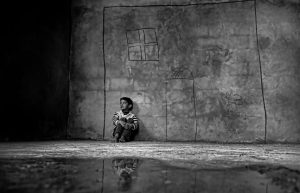 5. THE SPIRIT OF PALESTINE was the title of our 2014-15 competition. Entrants were invited to submit images that best illustrated the spirit of Palestine today in a way that would attract viewers to the Palestinian cause. Entries came from over forty photographers and the exhibition contains the work of the four prizewinners as well as a range of the most outstanding pictures from the other entrants.Here Rafat presents the first prize of £1000 to the winner Ayesh M. Haroun with Abdallah Attalah in attendance.This is a sixteen piece exhibition currently in A4 card mounts but could be adapted to larger formats if required.
6. THE PHOTOGRAPHY OF HAMDE ABU RAHME  – Hamde is one of the most talented and prolific photo-journalists operating in Palestine today. We have a wide range of his images  for use in any exhibition you would like to construct from his work. In 2016 we hosted his tour of Scotland after which he went on to exhibit and talk about his work in other parts of the UK.
7. GAZA – PHOTOGRAPHY IN DARK TIMES is an outdoor exhibition which was attached to railings in one  of the busiest streets in Edinburgh during the 2016 Edinburgh Festival. It contains images from four of the most outstanding photographers in Gaza – Ayesh Haroun, Mahmoud Al Khourd, Ibrahim Faraj, and Khaled Hashem. Mounted on 50×50 cm PVC sheets could be delivered to any location in Scotland and the north of England. Alternatively, the images can be mailed to you and mounted according to your requirements.
—
8. DISPLACED features images created by 14 photographers illustrating the lives of Palestinian refugees living in Gaza, the Occupied Territories, Lebanon and Scotland.
Displaced has been shown in Gaza City and in five
locations in Scotland. It comprises 24 images and can be shown either in wooden or card mounted frames or on foamboard backing.
9. THE LEGACY OF BALFOUR
Curating your own exhibition is usually quite straightforward. Here are a few things to bear in mind when planning.
WHERE will you display your pictures? Try to find a space that is free of distractions from other pictures, notice boards etc. Will you be using display boards or hanging on the wall?
HOW will you hang your pictures? Will the owner allow pins to be hammered into the wall, for example? We can advise you on hanging materials once you have clarified this.
WHAT is your budget?  How many pictures do you require? The exhibitions displayed on our home page are just a sample of what we have available. You can increase or reduce the number of images according to your display space. But remember that the more pictures you use the higher will be your costs of printing and framing. If necessary, we are able to send on A3 or A4 prints from the UK. There are several ways of mounting/framing your pictures. Contact us for more on this.